Advantech and DataCore: A Partnership for Industry 4.0
2017/3/19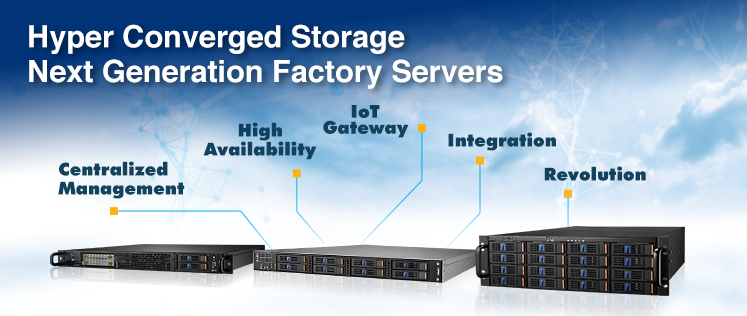 March 21, 2017, Taipei – (Taipei:2395) In order to address the challenges of modern manufacturing, Advantech and DataCore Software announced a partnership agreement to offer a range of factory-based hyper-converged server solutions for Industry 4.0. Advantech is a global Industrial IoT leader providing Intelligent System platform solutions across multiple vertical markets and DataCore Software is a leader in software-defined storage whose virtualization software empowers organizations to seamlessly manage and scale their data storage architectures. Together they will partner to offer consolidated Industrial 4.0 Information Technology (IT) solutions to serve virtualization, storage and IoT gateway requirements powered by Advantech's industrial-grade server solutions and DataCore's hyper-converged virtualization and storage software.
Centralized Management and Data Transformation
The architecture of Industrial IoT is complicated and difficult to maintain, data centers and servers in the industrial environment might have evolved over time with different pre-configured bundles of software and hardware supplied by different vendors. This so called converged infrastructure means systems can be separated and used independently, and scale-out independently also. This typical type of converged system can get overly complex, be a nightmare to manage, and eventually hinder productivity. But Advantech/DataCore's hyper-converged solutions provide a tighter integration between computing, storage, networking and virtualization, with strong centralized management features that integrate all servers, gateways, controllers and devices. They do this by taking independent servers and storage devices and placing them under one infrastructure-wide service. The server software then virtualizes each storage device by sharing all the collective storage resources making any device both uniform and software-defined, and thereby eliminating differences and incompatibilities among manufacturers, models and generations of equipment in use. DataCore's centralized hyper-converged software means seamless integration of new and legacy systems and fast scalable deployment with easier maintenance.
High Availability
Because mission-critical applications are essential to the survival of a business they need the protection of high availability and currently there's no real protection mechanism in most Industrial IoT infrastructures. For example, when a water treatment facility pumps have stalled, or a production line fails, all related operations cease. When such systems are interrupted, organizations face substantial repercussions and vulnerable productivity. The aim of high availability is to make sure systems or application are configured to handle different loads and different failures with minimal or no downtime. This can be achieved by using multiple application servers in diversified geographical locations. Different plants may use different data servers and different production monitoring systems, all of which may be incompatible with other systems and equipment in other locations, but with the Advantech/DataCore Hyper Converged Infrastructure solutions, data synchronization would be seamless across systems and plants meaning zero downtime and enhanced performance across different manufacturing lines in different plants. This high availability ensures better reliability without downtime or manufacturing interruption.

IIoT Gateway
Current IoT gateways can only connect to public clouds butAdvantech/DataCore's solutions provide a unified IoT gateway platform that transfers data not just to the cloud, but also the branch office, partner sites, as well as the back-end IT center. The solution uses Microsoft Windows/Azure as its core platform for innovation in storage, virtualization and networking, thereby helping customers realize the true potential of the industrial cloud. In addition, the solution can be installed into various Microsoft products, including Windows Server, Hyper-V, and System Center.

The collaboration of Advantech and DataCore Software delivers the next-generation of the industrial factory cloud. The advantages of our solution are centralized management, high availability, and seamless integration of existing devices and unified IoT gateway, these benefits mean customers get greater consolidation savings and faster performance from data collection to decision-making. We provide three solutions with DataCore: SKY-4311 for private clouds and IoT gateways, HPC-7120 for high-performance database and analytics, and HPC-8316 for virtual desktop infrastructure. Contact your local Advantech sales office or visit the website to learn more.